Four Ways Of Giving
Electronic Funds Transfer
An option to make your regular Sunday contributions and Christmas/Easter contributions is available called Electronic Funds Transfer (EFT). This option allows St. Joseph's Credit Union to deduct a set weekly amount on Fridays OR a set monthly amount on the 1st or 15th of the month from your checking or savings account. To set up EFT, simply fill out, sign, and turn in an Authorization Form to the parish office. To make any changes to your deductions,simply fill out and sign another Authorization Form and submit it to the parish office. Three business days are needed for it to be processed. Authorization forms are available on the wood table by the main doors, at our parish office and by clicking on the link below:
EFT Authorization Form

INTRODUCING THE ELECTRONIC FUNDS TRANSFER (EFT) PROGRAM FOR YOUR SUNDAY OFFERING
Our parish is now offering Electronic Funds Transfer as an option for making your regular Sunday, Christmas, and Easter Offerings.
WHAT IS THE ELECTRONIC FUNDS TRANSFER PROGRAM?
It is a direct payment program whereby your contribution is debited automatically from your checking or savings account. You will continue to receive your envelopes in the mail so that you can make contributions for Holy Days and special collections.
WHAT ARE THE ADVANTAGES OF ELECTRONIC FUNDS TRANSFER?
The Electronic Funds Transfer program will help you in several ways:
It saves time and cost - fewer checks to write.
Helps meet your commitment to support the mission of the parish - even if you're
on vacation or out of town.
Your contribution is always made on the day or date you specify.
You won't have to remember to prepare your envelope or check before heading
out the door to Mass.
It's easy to sign up for, as well as easy to cancel or change, should you so desire.
WILL IT COST ME ANYTHING?
There is no charge for this service.
HOW OFTEN WILL I BE ABLE TO GIVE ELECTRONICALLY?
Accounts can be debited weekly or monthly, as well as for Christmas and Easter. The monthly dates are the 1st or the 15th; if these dates fall on a weekend or holiday, the debit will occur on the next business day. You may also designate your contributions for Christmas and Easter. These will be debited on December 15th and April 1st respectively.
HOW ARE MY CONTRIBUTIONS AUTOMATICALLY DEDUCTED?
The amount you specify will automatically be deducted based upon the option you choose.
CAN I CHANGE THE AMOUNT OF MY OFFERING TRANSFER?
Yes, you can change or cancel at any time by contacting the parish office.
WHAT IF I CHANGE BANK ACCOUNTS?
Notify the office and we will give you a new authorization form to complete.
Online Checking
To contribute using your own bank's bill pay option on their website, add
"Holy Spirit Catholic Church"
as a payee for your bills, entering our address and phone number
2952 Edison St. NW Uniontown Ohio 44685 (330-699-4500)
and make your contributions online at any time. The bank sends the church a check for the amount you indicate. Use your envelope number as your account number. Use the memo line to indicate whether it is a regular Sunday contribution, Holy Day, or second collection.
Mail
Mail your contribution in the form of a personal check to our parish office at:
Holy Spirit Church
2952 Edison St. NW
Uniontown Ohio 44685

Church Offering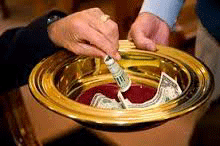 Drop your envelope with a personal check or cash enclosed in the collection basket at Mass.