News & Events
A NOTE FROM FATHER KEEHNER: THE SACRAMENT OF PENANCE (RECONCILIATION)
Dear parishioners, as a priest, one of the most important things I do is celebrate the Sacrament of Penance, whether I am going to confession myself or hearing the confessions of parishioners. Since I became pastor of Holy Spirit Parish in July, I have wanted to make the celebration of the Sacrament of Penance a priority. However, the time we chose--4:00 PM to 4:45 PM does not seem to be convenient time for parishioners, as there have never been more than two persons taking advantage of the opportunity in any given week, and usually no one at all. Fr. Simon, Anne and I have discussed this issue among ourselves and have come up with the following solutions:
First, please be aware that there are opportunities for Confessions every Saturday, with few exceptions, at Saint Paul Church in North Canton, immediately following the 8:00 AM Mass, most often with both Fr. Simon and I hearing confessions. Regardless of how many persons wish to go to confession, we stay until everyone has had the opportunity, with one of us always staying until at least 9:00 AM. (Please note, we usually have so many that we are there until 9:30 or even later).
Second, rather than offering Confessions at Holy Spirit every Saturday at 4:00pm, before the 5:00 Vigil Mass, perhaps it might work better for us to offer Confession after Masses on a regular basis, so that following the final hymn and recessional, we would go directly to the confession room and be available for anyone who would like to celebrate the Sacrament. This would also allow our children enrolled in PSR on Sundays to have the opportunity to celebrate the Sacrament, as well.
Beginning the first weekend in October, we will offer Confessions at the following times:
The first and second weekend of the month: following the 5:00 PM Mass.
The third and fourth weekend of the month: following the 9:30 AM Mass.
Also, please know that the sacrament is always available by appointment.
Finally, please know that we will schedule ample opportunities for the celebration of the Sacrament prior to Christmas and Easter.
Note: The weekend is defined by the Sunday date.

OCTOBER CONFESSION SCHEDULE
*October 1st—after 5pm Mass
*October 8th—after 5pm Mass
*October 16th—after 9:30am Mass
*October 23rd—after 9:30am Mass


BUILDING & GROUNDS COMMITTEE'S FALL WORKDAY
Twice a year the Building & Grounds Committee organizes a volunteer workday which enables us to continue the care and maintenance of our buildings and property by completing some major projects. No skill is needed - only a willingness to give of your time. The projects are organized by the committee. Anyone interested would be welcome. Our fall workday is Saturday, October 1, 9:00 am - Noon. If interested, the sign-up sheet is on the wood tables by the main doors. Thank you!
---
Holy Spirit PSR & Youth Group Activities
PARISH COUNCIL SEEKS YOUTH REPRESENTATIVES
Parish Council is seeking 2 youth representatives who are in 9th-12th grade. Youth representatives are to attend the five parish council meetings held during the year and give input on behalf of our youth. To learn more about what is involved, or if you are interested in serving on Council to speak for our parish's youth, please complete the application that can be found at on the parish website, http://www.holyspiritunoh.org/involved.html

PARENTS OF FIRST GRADE CHILDREN
In order to provide children with proper formation and preparation for the Sacrament of First Eucharist in the second grade, parents should ensure that their children are registered for PSR as least by first grade. This is in compliance with Diocesan policy.
---
Save the Date!
ST PAUL NOW—NIGHT OF WORSHIP
Teaching, confession, worship, Adoration of the Blessed Sacrament for the whole family! Join us at St. Paul N Canton on the following Tuesdays at 7:00PM:
October 18th
November 22nd
December 20th


8TH ANNUAL NUN RUN
Ursuline Sisters Mission hosts the 8th annual Nun Run 5k, 1-mile walk, and kids' run October 1st at the Ursuline Center, 4280 Shields Rd, Canfield. The event is both in-person and virtual. Entry fee is $30 in advance or $35 day of. No fee for the Kids' Run. Proceeds benefit children served by Ursuline Sisters HIV/AIDS Ministry, Beatitude House and Ursuline Preschool & Kindergarten. Online registration and sponsorship opportunities at https://runsignup.com/nunrun.

JOIN US AT THE HAYRIDE!
Our annual hayride, sponsored by our Family Life Committee, will be Saturday, October 1 at 6:30 pm at the Miller Farm (intersection of Lake Center St. and Mogadore, entrance on Mogadore). There will be a bonfire, games, hot dogs, s'mores and, of course, the hayride! If you are interested in helping at the hayride, a sign up sheet is on the wood tables.

STARK DEANERY COUNCIL OF CATHOLIC WOMEN
"2022 - Together Again" Style Show Luncheon Fundraiser with Raffle Baskets, 50/50, Door Prizes on Friday, October. 7, 2022
Time: Doors open at 10:00 am. Lunch served at 11:30 am
Where: La Pizzeria in the Crystal Room, 3656 Dressler Rd NW, Canton. Checks payable to SDCCW, by Mon. Sept 26th.
Mail to: Sophie Filigno, 2230 40th St NW, Canton, OH 44709.
Contact: Mary Jane, 330-833-3756 or Sophie Filigno 330-492-8407

MINISTRY DAY
A day for everyone!  Please register for the Diocesan Ministry Day at John F. Kennedy High School on Saturday, October 8, 2022.  The day is a collaborative effort of the Central Offices serving multiple ministries and will include Welcome by Bishop Bonnar, Prayer, Keynote by Father Ricky Manalo, CSP, many breakout sessions on a variety of topics, exhibits, and more! Please contact the parish office by September 18 if you are interested in going so we can register as a group. Brochures are available at https://doy.org/events/ministry-day-2022/

LOYOLA RETREAT HOUSE: CAREGIVERS RETREAT, SAT., OCT 8, 9:30AM – 3:30pm
Come unburden your thoughts, feelings, and anxieties at this retreat for caregivers. Find hidden strengths and a renewed sense of service for those whom you care for, and also a support system as you continue your journey with joy. It is a day of comfort and care for you! $30 per person and includes lunch and a snack. Please join us to be refreshed and renewed. To register for this course call 330-896-2315 or visit www.loyolaretreathouse.com

STEPPING INTO THE FUTURE:NAVIGATING WIDOWHOOD - ONE MOMENT AT A TIME
Holy Spirit is hosting a special event for parish members who are widows.  "Stepping into the Future: Navigating Widowhood - One Moment at a Time" will be held in the Social Hall on October 18 from 11:00 AM to 1:00 PM. Mary Ann Crawford and Ann Haas will be your hosts.  There will be a short presentation and a luncheon served.  Please come.  Reservations must be made by October 10th.  Please call the Parish Office to register.  We hope to see you.

ANNUAL RED MASS
The Annual Red Mass for men and women in the legal profession will be held on Wednesday, October 12, 2022, at 12:10 p.m. in St. Columba Cathedral followed by a luncheon in St. Columba Hall. Bishop David Bonnar will be the celebrant and Msgr. John Zuraw will be the homilist.

25TH, 40TH, 50TH AND OVER WEDDING ANNIVERSARY CELEBRATION
The Diocese of Youngstown is sponsoring a Wedding Anniversary Celebration on Sunday October 16th at 2:00pm at the Basilica of St. John the Baptist in Canton, honoring couples observing their 25th, 40th, 50th and over wedding anniversaries in 2022.
The Wedding Anniversary Celebration will include Mass with the Most Reverend David J. Bonnar, Bishop of Youngstown, renewal of marriage vows and a personalized certificate for each couple. Following the Mass, there will be a reception for the couples and their families in the parish hall. You must make advanced reservations for this event by contacting the parish office before September 11th.

CENTRAL CATHOLIC VS. ST. THOMAS AQUINAS "CELEBRATE THE RIVALRY" GAME
Central Catholic Football hosts St. Thomas Aquinas Football on Thursday, October 20th. Again this year, families are encouraged to come and enjoy a family-friendly evening of fun while supporting Stark County's Catholic High Schools. Elementary students who wear this year's rivalry shirt, CCHS or STA gear, or their own Catholic elementary school spirit shirt will enjoy free admission, receive spirit gear, and get to run the field during half-time. For more information, please visit CentralCrusaders.org and look under "Announcements." We hope to see you there! To learn more about CCHS, visit CentralCrusaders.org. 

ST. THOMAS AQUINAS HIGH SCHOOL AND MIDDLE SCHOOL ENCHANTED KNIGHT AUCTION
On Friday, October 21, we welcome our alumni, current families, and community friends to join us for our annual auction, held in the STA gym. We are excited to gather together, enjoy dinner and view an enchanted cache of auction items that will fulfill the wishes of almost anyone. We are proud of the many new things we have to offer, and look forward to having you here to witness our Tradition of Truth, Scholarship, and Excellence. Please visit our website to learn more about sponsorship and donation opportunities at AquinasKnights.org or contact Nick Stanek, Auction Chair, at nstanek@youngstowndiocese.org. Register and buy your tickets online at: https://bit.ly/2022STAauction

SACRAMENT OF CONFIRMATION FOR ADULTS
The celebration of the Sacrament of Confirmation for adults will be held on Sunday, November 20, at 4:00 p.m. in St. Columba Cathedral. This is a special opportunity for anyone (age 18 or older) who has not received the sacrament to join with other adults of the diocese. Candidates must register with our parish and be eligible to receive the sacrament by verifying baptism and marital status. A preparation program will be held at our parish. Sponsors must be a baptized, confirmed, practicing Catholic and may not be the candidate's parent. Please contact the parish office no later than October 9 in order to register and verify eligibility to receive the sacrament.

BISHOP BONNAR'S 2023 PILGIMAGE
Make plans to join Bishop David J. Bonnar and parishioners throughout the diocese on a Pilgrimage to Scotland and Ireland on June 4-14, 2023 as we celebrate the 80th Anniversary of The Diocese of Youngstown. Highlights of the trip include visits to: Glasgow, Edinburgh, Stirling, Oban, Belfast, Knock, Galway and Dublin. A special part of the pilgrimage is a visit to the Isle of Iona on the Feast of Saint Columba, where he founded Scotland's first Christian Community. To receive more information as the trip develops, please email Fr. Lavelle at jlavelle@youngstowndiocese.org.
---
FISH
ACME RECEIPTS FOR FISH
It's that time again! Please save your Acme receipts dated August 4 to December 24, 2022 for FISH. Circling the cash-back amount on the receipts is a big help! If the cash-back amount is $0, please do not turn them in. Place your receipts in the FISHbowl on the usher's table or turn in to the parish office.

OUTREACH SUNDAY FOR FISH
FISH, our Lake Township community food pantry, relies on the generosity of others to stock it with items they needed. Once a month is designated as "Outreach Sunday." This month's "Outreach Sunday" items for Holy Spirit are peanut butter & jelly, pancake mix and cereal bars. Please bring your donations next weekend and place under the wood tables.
---
Faith and Light Forum
TOPIC TO BE DETERMINED, THURSDAY, OCTOBER 20, 11:30 AM
Most Reverend Bishop David J. Bonnar will be the speaker.

FRIENDS AROUND THE TABLE, THURSDAY, NOVEMBER 17, 11:30 AM
Fr. Donald E. King will speak about the Sacrament of Eucharist as an opportunity for accompaniment.

ST. JOSEPH'S AMAZING DREAM JOURNEY, THURSDAY, DECEMBER 8, 11:30 AM
Fr. James McKarns will be the speaker. God's just, patient and attentive servant was Joseph; uniquely chosen to be the foster father of Jesus and husband of the Blessed Virgin Mary. His divinely inspired dreams led him to travel down selected roads, previously unexplored.
---
Altar Flowers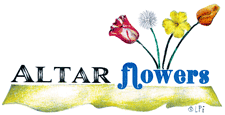 If you would like to provide flowers for our Saturday and Sunday Masses, the 2022 Flower Chart is now available on the bulletin board. Just place your name & phone number on the chart next to the date that has special meaning for you. A week before your floral arrangement is due, you will receive a reminder call and will be asked about your special intention. For many parishioners it is a wonderful way to commemorate Wedding Anniversaries, Birthdays, Loved Ones (living and deceased), etc. Your name and special intention will be noted in the bulletin to thank you for your thoughtfulness in adding beauty to the Holy Spirit environment.
---
2022 Hot Meals
HOT MEALS DATES FOR 2022
Please mark your calendars for the 2022 Hot Meals dates that we are scheduled to help serve. All times are from 3:00 - 5:30 pm. They are:
October 19th
December 18th
---
Holy Spirit Google Calendar






Tutorial
A tutorial is available on our YouTube Channel Holy Spirit Uniontown Ohio. A direct link to the tutorial is also available at
Holy Spirit Google Calendar Tutorial Part 1
Holy Spirit Google Calendar Tutorial Part 2


Are you using the Holy Spirit Google Calendar on the parish website? If not, you may want to! Liturgical ministers can view if they are scheduled for a particular day; you can learn details about events at the parish and beyond. Access the calendar by clicking the VIEW CALENDAR button on the home page or go to the Calendar Page. To read about an event, click on it (then you have the option to add it to your own calendar.)

For a link to our Liturgical Calendar go to:
Liturgical Calendar
For a direct link to our Liturgical Calendar go to:
Liturgical Calendar Direct Link
---