News & Events
NEW WEEKEND MASS SCHEDULE BEGINNING JULY 2/3
Most of you are aware, Father John Keehner will be our new Pastor beginning July 1 and he, along with Father Simon Mino, will be celebrating our Masses. In Bishop Bonnar's announcement, he indicated that we would have to adjust the current number of scheduled weekend masses.
As part of the Regionalization Plan, every parish throughout the Diocese has been asked to reduce the number of Masses on a weekend because of the shortage of priests. According to church law, a priest is to celebrate no more than three Masses on the weekend.
After discussion among staff, Parish Council and parishioners and in dialogue with Father Keehner, we came to realize that a good weekend Mass schedule would be Saturday at 5:00 pm and Sunday at 9:30 am, which begins the first weekend of July.
This schedule allows for Father Keehner and Father Mino to be able to cover all the Masses at both Holy Spirit and St. Paul, who also is reducing their number of weekend Masses. With this new Sunday Mass time, we can still have PSR after the Mass.
This change may take some adjustment and getting used to, but we are up to it since we are a strong parish. If you have any questions, please contact Anne Weeks at the parish office.

DAILY MASS SCHEDULE & TIME FOR CONFESSIONS
Beginning July 1, daily mass will be celebrated on Tuesdays and Thursdays at 9:00 am. Confessions will be on Saturdays from 4:00 pm - 4:45 pm.

ANNE'S NEW POSITION
The title for Anne's new role is Diocesan Pastoral Associate and over the next few weeks, we will explain what this entails. The term Diocesan is included as the Bishop appointed her. Below are some of the ways she will serve Holy Spirit Parish:
Responsibility for coordinating the pastoral care of the parish: communal, liturgical, catechetical, outreach, evangelization, and administration
Exhibit a capacity for leadership and collaboration in all aspects of parish life and ministry
Collaborate with the Pastor and the Diocese to fulfill the policies and procedures of the diocesan offices.
Seek the guidance of parishioners as expressed by the pastoral council, financial council, and other collaborative structures in the parish, region, and deanery.
Foster the spiritual growth of parishioners, encouraging them to put their talents and baptismal gifts at the service of others

ANNE'S NEW SCHEDULE
Anne will be in the parish office on Tuesdays – Fridays and will be worshipping with you. She will take Monday as her day off. You can reach her by calling the parish office.

HELP NEEDED WITH LOVE OUR COMMUNITY MEALS
Once again Holy Spirit Parish Knights of Columbus will be serving an evening meal (5:00 - 7:30 pm) through Love Our Community. The meal will be cooked and prepared in our kitchen for 150 people and transported to Hartville Park pavilion where it will be served. The dates are Thursday, July 14 and Thursday, July 28. We will meet in our kitchen at noon each of those days to prepare the meal. If you would like to help, please contact Mark Violand at 330 - 807 - 2255 or email mvioland2@neo.rr.com.

THE PENDING DOBBS DECISION: HOW IS A CATHOLIC TO RESPOND?
The leaked draft of the pending U.S. Supreme Court case of Dobbs v. Jackson Women's Health Organization has returned the abortion debate to center stage in our already polarized culture. Despite the media frenzy and political posturing there are many important things we can do as people of faith by focusing on the needs of women and their children:
Pray! Pray for the day when every unborn child is protected and every mother is supported.
Support Women in Need through Catholic Charities: The majority of those served by Catholic Charities in the Diocese of Youngstown are women and children. For instance, last year Catholic Charities' First Step programs provided formula, diapers, wipes and other essential baby items to 2,971 low-income people who looked to the church in their time of need.
Act on behalf of Moms in Need: Parishioners can play a critical role in strengthening the connection between women in need and resources available. One approach to helping pregnant and parenting women is Walking with Moms in Need. To learn more, contact 330-744-8451 ext.272 or dschmidt@youngstowndiocese.org.
Healing for Those Suffering After Abortion: Project Rachel of Northeast Ohio, a ministry of the Diocese of Youngstown, provides help with post-abortion reconciliation and spiritual healing. If you know someone who may benefit from this ministry call or text 330-360-0430.

LOVE OUR COMMUNITY (LOC) MEALS
LOC is excited to bring back in-person LOC Summer Meals! All meals will be served from Memorial Park in the closed pavilion on Mondays and Thursdays in June, July and August. If you or someone you know could use meals, please call 330-961-1212 or e-mail loveourcommunitylake@gmail.com. Volunteers are also needed. To sign up, go to signup.com/go/ZuBZYus.
---
Holy Spirit PSR & Youth Group Activities
CEDAR POINT TRIP: THERE IS STILL ROOM!
Attention High School Students (incoming freshman through new graduates)! On July 13 from 7:30 am - 11:45 pm, there will be a trip to Cedar Point with other youth from Stark County Catholic churches. The cost is $45.00 and includes transportation. Food and drinks are not included. Seats are limited on the bus which is leaving from St. Paul (North Canton). If you have any questions or to RSVP, contact Claire Hobbs ASAP at 330 - 417 - 7873 (call or text).
---
Save the Date!
ART & SPIRITUALITY RETREAT
Interested in beauty and delight? Want to get closer and go deeper with God? Join us for an Art and Spirituality Retreat to take place over four consecutive weeks at St. Michael, Canton. The retreat will be experiential, reflective, and prayerful with many opportunities for both silence and sharing. Sessions:
Scripture & Painting June 22nd at 7 pm
Tibetan Prayer Flags June 29th at 7 pm
Tin Collage July 6th at 7 pm
Cost is $10 per session and includes all materials and light refreshments. Scholarships are available. Sessions presented by Jennifer Brown and Roberta Muoio. To RSVP please contact Roberta Muoio at 330 – 492 - 3119 x 218 or Roberta@stmichaelcanton.org.

DRUM & PRAYER
St. Paul Parish (North Canton) presents Drum & Prayer with Trevor Meyer on July 6 & 20, August 3 & 17 from 6:30 pm - 8:00 pm in the Church basement social hall. All ages, families and individuals are welcome - no commitment or registration. Come when you are able.

LOYOLA RETREAT HOUSE EVENT
The Loyola Retreat House is sponsoring "Encounter with Silence" from June 26 - July 2. This retreat is a week of radical Gospel spirituality lead by Father Neil Walters. The cost is $500 and it includes all meals and overnight accommodations. Deadline for registration is on June 15. Call 330-896-2315 or visit www.loyolaretreathouse.com for more information or to register.

LOYOLA RETREAT HOUSE: AN INTRODUCTORY ICON RETREAT JULY 31 - AUGUST 5
Paint a Byzantine style icon with us! This creative retreat is for anyone who wants to learn icon painting regardless of artistic experience or spiritual background. Cost is $600 and it includes overnight accommodations, meals and art supplies. Deadline for registration is June 24. For more information, go to www.loyolaretreathouse.com or call 330-896-2315.

NATIONAL EUCHARISTIC REVIVAL
Join Bishop David Bonnar and the faithful of the diocese as they journey to each county, celebrating Holy Mass followed by a Eucharistic Procession. Stark County's event is on July 10 at 11:00 am at Christ the Servant Parish (833 39th St NW, Canton). For more info, visit www.doy.org/EucharisticRevival.

LOYOLA RETREAT HOUSE: A WINDOW TO HEAVEN
The Loyola Retreat House is sponsoring "A Window to Heaven: An Introductory Icon Retreat" from July 31 - August 5. Paint a Byzantine style icon with us! This creative retreat is for anyone who wants to learn icon painting, regardless of artistic experience or spiritual background. The retreat includes time for instruction in the tradition and meaning of icon writing, creation of the icon itself, time for personal prayer and reflection, daily Mass, prayer and fellowship. Bring your creativity, an open mind and a willingness to let the Spirit move you. Cost is $600 and includes overnight accommodations, meals and all the art supplies to create your icon. Deadline for registration is on June 24. Call 330-896-2315 or visit www.loyolaretreathouse.com for more information or to register.

LOYOLA RETREAT HOUSE: GRIEF RECOVERY MEETINGS
This 4-week course, held on Tuesdays in August from 6:00 – 9:00 pm, will be guided by Ellen Barber, a certified grief specialist. The program covers our relationships and recovery from the pain, isolation and loneliness caused by any kind of loss. Come together with others for a program that will help you process your grief and move forward with hope. To register for this course call 330-896-2315 or visit www.loyolaretreathouse.com. Light refreshments included. Cost $125.

ELEVENTH ANNUAL FAITH & FAMILY FESTIVAL
A day of fun and fulfillment for families, students and friends will be held on Sunday, September 25 on the West Quad of the campus of Walsh University (2020 E. Maple St., North Canton). The day will begin at 11:00 am with Mass with Bishop Bonnar. Our featured presenter is Fr. Leo Patalinghug "the cooking priest" from Plating Grace. The day will also include musical acts, activities for kids and young people, vendors and exhibitors, and food. For more information call 330-744-8451 ext. 272 or e-mail dschmidt@youngstowndiocese.org.
---
FISH
OUTREACH SUNDAY FOR FISH
FISH, our Lake Township community food pantry, relies on the generosity of others to stock it with items they needed. Once a month is designated as "Outreach Sunday." This month's "Outreach Sunday" items for Holy Spirit are cereal, meals in a box/can (like macaroni & cheese, ravioli, etc.) and side dishes. Please bring your donations next weekend and place under the wood tables.
---
Altar Flowers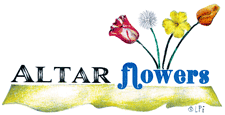 If you would like to provide flowers for our Saturday and Sunday Masses, the 2022 Flower Chart is now available on the bulletin board. Just place your name & phone number on the chart next to the date that has special meaning for you. A week before your floral arrangement is due, you will receive a reminder call and will be asked about your special intention. For many parishioners it is a wonderful way to commemorate Wedding Anniversaries, Birthdays, Loved Ones (living and deceased), etc. Your name and special intention will be noted in the bulletin to thank you for your thoughtfulness in adding beauty to the Holy Spirit environment.
---
2022 Hot Meals
HOT MEALS DATES FOR 2022
Please mark your calendars for the 2022 Hot Meals dates that we are scheduled to help serve. All times are from 3:00 - 5:30 pm. They are:
July 24th
October 19th
December 18th
---
Holy Spirit Google Calendar






Tutorial
A tutorial is available on our YouTube Channel Holy Spirit Uniontown Ohio. A direct link to the tutorial is also available at
Holy Spirit Google Calendar Tutorial Part 1
Holy Spirit Google Calendar Tutorial Part 2


Are you using the Holy Spirit Google Calendar on the parish website? If not, you may want to! Liturgical ministers can view if they are scheduled for a particular day; you can learn details about events at the parish and beyond. Access the calendar by clicking the VIEW CALENDAR button on the home page or go to the Calendar Page. To read about an event, click on it (then you have the option to add it to your own calendar.)

For a link to our Liturgical Calendar go to:
Liturgical Calendar
For a direct link to our Liturgical Calendar go to:
Liturgical Calendar Direct Link
---